GIVING HOPE THIS FESTIVE SEASON!
October 18, 2023

-

February 29, 2024
Our Dear Donor, 
GIVING HOPE THIS FESTIVE SEASON!
Four years have passed since my appeal to you to support HWA's mission of serving persons with physical disabilities and the elderly.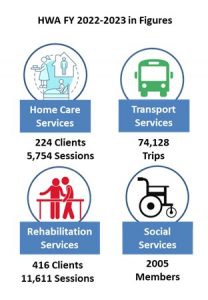 HWA is thankful for the donations received for the past many years which enabled HWA to continue its services and programmes for the benefits of our community. Myself, Siew Han and Thimajit are grateful also as HWA is able to provide us with heavily subsidised rehabilitation therapy, home care service and wheelchair accessible transport. 
My mother has dementia and is now attending a Senior Day Care Centre. My father lives in a Nursing Home. As a person with physical disabilities, I put in efforts to be independent despite the challenges I faced in my daily life. Your support enables me to receive the needed subsidised services that HWA is providing, and helps me in my life's journey.
Your generosity has also made an incredible difference to the lives of my fellow beneficiaries as well. We seek your continued support by donating to HWA via Giving.sg campaign at https://s.giving.sg/2lhwMRp or HWA's website at by clicking the donate button below.
On behalf of all HWA beneficiaries and staff; "Thank You" so much for sharing your gifts to help us this festive season. 
We wish you and your loved ones a season filled with love, peace, and joy with many great returns. 
Warmly yours, 
Juraimi On behalf of HWA Beneficiaries & Staff