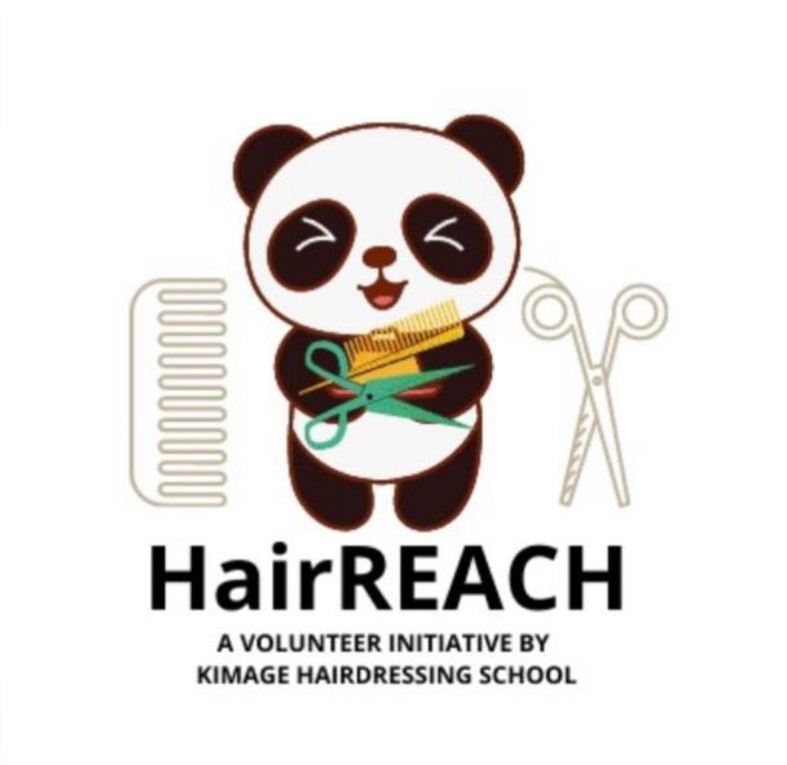 HairREACH
Dear members,
Kimage Group has approached HWA to provide charity haircuts for our members in their school. The planned event will be happening once a month on Sunday from 11am to 2pm. It will be a simple haircut by trainees in the comfort of a big salon setup at Marina Square. The school is located at 6 Raffles Boulevard #02-321 Marina Square S'039594. Participants will need to arrange their own transportation. For more information, please visit the website https://sch.kimage.com.sg/contact-us
The FOC service is by appointment only, with each session lasting about 45minutes including break.
By attending this event, you consent to the use of your photograph or image for HWA's official publications, publicity materials, websites, and social media. While Kimage Hairdressing school may also use your photograph or image for the same purpose if the consent is given.
Members interested in this event please register to Angela by SMS or Whatsapp to 98156726 by 2/12/2021.
---
Job Opening for Members
General Worker
You will be supporting one of the business units in DHL Supply Chain handling the logistics component of Aviation Catering. Your duties includes (but not limited to) the following:
Perform daily warehouse duties such as picking and packing, and general housekeeping duties;
Receive goods from vendors and organise them into their assigned places;
Perform palletising, kitting/de-cartoning of goods;
Push and stage airline carts;
Perform quality checks for set completion
Requirements:
Able to carry heavy loads, up to 15kg - 20kg
Detail oriented with basic computer skills
Able to start work immediately
Job Details:
Working Days: 6 days
Shift Type: Rotating Shift
Shift Timings: 7am - 3pm, 3pm - 11pm, 11pm - 7am
Work Location: 30 Changi North Crescent
Interested member please sms or whatsapp to Angela at 98156726
Surveys for Members
Person with Disabilities (PWDs) Activity / Program Interest Survey
PAssion WaVe @ Jurong Lake Gardens (part of the people's association) plan to design programmes for people with disabilities. Their aim is to understand the needs of the PWDs community. If you are interested to contribute your view, please help to do a simple survey with this link:
Person with Disabilities (PWDs) Activity / Program Interest Survey
. Thank you.
Workshops
Drum and Strum Thursdays
With resumption of services, HWA has resumed the ukulele group sessions on Thursdays. HWA has also started a Chinese Drumming group. The group is filling up quickly and there are limited drums available. If you are interested, please contact Freddie at freddie@hwa.org.sg

Thursdays:

Ukulele Class : 3:00- 4:30pm
Drumming Class: 4:45- 6:15pm.

To register online fill up the form below
Singapore Tourist Attractions
Attraction Prices
Singapore is home to many attractions which are accessible and friendly for Persons with Disabilities. Below is a list of attractions that provide special rates for PWDs. To book your tickets, please email the attraction with a front and back copy of the membership card, with your intended visit date and time in advance of the visit. Please note that in view of Covid-19, some attractions may have some restrictions on the number of visitors allowed. Kindly check with the attraction ahead of time.
| ATTRACTION | ENTRY FOR PWD | REMARKS |
| --- | --- | --- |
| Singapore Zoo | Complimentary Admission | |
| Night Safari | Complimentary Admission | |
| River Safari | Complimentary Admission | |
| Jurong Bird Park | Complimentary Admission | |
| Rainforest Lumina | Complimentary Admission | Mon - Thurs Only |
| Art Science Museum | $12 (discount) | |
| Asian Civilisation Museum | Complimentary Admission | 1 Caretaker Complimentary |
---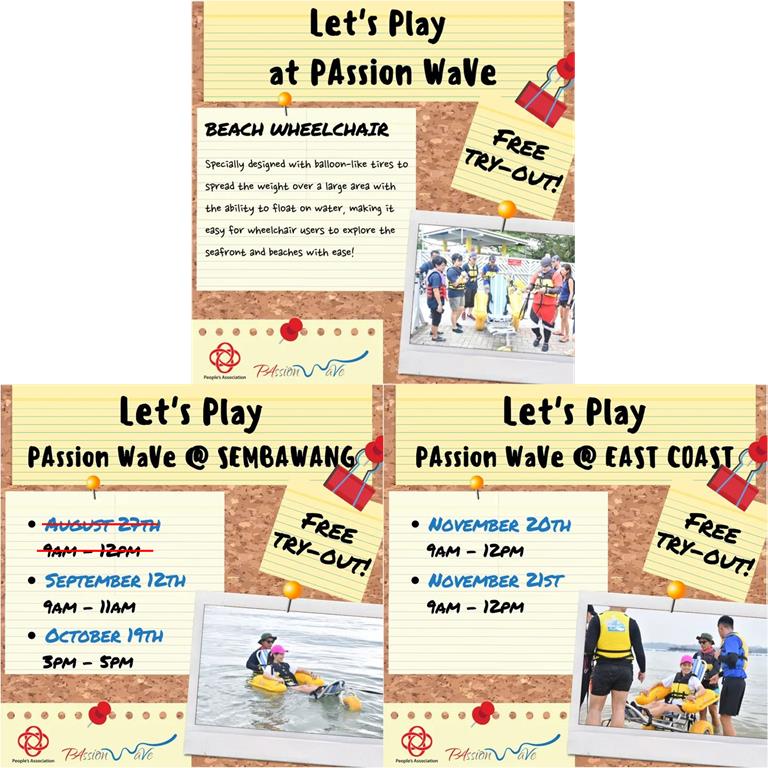 Let's Play @ PAssion WaVe
PAssion WaVe would like to invite your client to join us in experiencing what it is like to float in comfort with our Beach Wheelchairs.
Following Slots are up for grab now.
PAssion WaVe @ Sembawang
12 Sep, Sunday (9am-11am)
19 Oct, Tuesday (3pm-5pm)

Passion WaVe @ East Coast
20 Nov, Saturday (9am-12pm) 21 Nov, Sunday (9am-12pm)

Signup your interest through
https://go.gov.sg/bwc21
To find out more please call at 67550225 or email at LOKE_Wei_Jie@pa.gov.sg