Despite facing physical challenges, the late Timothy Ang Kia Seng was a role model to emulate, given his never-give-up, indomitable spirit.
Born on 17 August 1955, Timothy became paralysed at seven after a bout of tuberculosis which attacked his spine. His parents were advised to bring him for surgery, but they were against it. As a result, his condition deteriorated.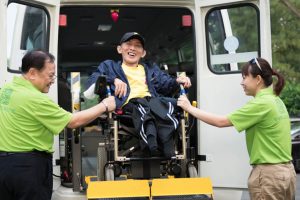 Growing up, Timothy faced difficulties getting around and spent most of his time in the Mistri Wing of Singapore General Hospital. Upon turning 14, he was moved to the Singapore Cheshire Home. There, a teacher named Ms Judy Tan would visit him regularly, bringing storybooks to encourage him to read and write. He was released from long-term hospitalisation only in the 1970s.
Timothy was well-read. However, his medical condition and lack of academic qualifications posed challenges to employment. He could only do home-based data entry, which paid lowly. His doctor recommended approaching HWA for help in finding a job.
In 2010, Timothy became one of the first students to enrol for HWA's architectural draughtsmanship course. Timothy was the only student who remained in the programme. His determination later proved worthwhile.
Some HWA Members shared that Timothy was always spirited and full of joy. I vividly remember how eager he was, at a Christmas Party once, to receive a digital architechitural drawing (AutoCAD) that I had done. While the rest of us were busy enjoying the feast, he was eager to help with my work. I was very touched by his kind efforts!
In 2013, HWA set up a computer laboratory at its Jurong Point Branch Rehabilitation Centre. Timothy conducted architectural training sessions there, along with four other trainers from the Building & Construction Authority Academy.
In 2014, the laboratory was registered as a social enterprise known as the HWA Building Information Modelling (BIM) Studio. On 22 December 2015, BIM Studio was relocated to the Enabling Village in Redhill. Timothy was appointed Co-Trainer and Studio Manager.
I first learnt about BIM Studio in January 2016 during a HWA outing at Labrador Park. BIM Studio was where I got to know Timothy better. Ever the jovial soul, he would welcome me to class with a joyful smile on his face. I often went to class feeling lost, as I was the only female among 17 trainees. Nonetheless, Timothy would often approach me, easing me into the learning process, and teaching me the basics of AutoCad. He coached me at a pace I found comfortable and conducive, and made sure that I could understand every concept.
Once, I called Timothy and shared about the difficulties I faced in drawing. He assured me that he would explain to me more during the next lesson. True enough, he did. He made learning skills easy. I am very thankful for all that he has done for me. An inspired learner would certainly remember the greatness of a truly dedicated teacher. On 16 January 2017, I went to the BIM Studio to pass him some festive goodies. We chatted for more than an hour. He told me about his plans for my learning in the future. Unfortunately, that was my last time seeing him face-to-face…
The fateful day came in March 2017. Timothy was rushed to the hospital after experiencing great discomfort and pain. Doctors found kidney stones and successfully removed them. Timothy was discharged from hospital in May. However, he started experiencing a quicker heartbeat, and was told to rest at home. He suffered a stroke in his brain on 8 June and fell into a coma for 10 days before passing away peacefully on 19 June. Timothy's passing saddened many, as he was a source of encouragement to those around him.
Let us all cherish him in our thoughts and hearts, most of all his positive attitude and glowing qualities. Timothy, you will certainly be remembered – dearly, deeply and fondly.
– Chuan Chen