Fall Risk Management Programme
August 15, 2019 @ 4:00 pm

-

5:00 pm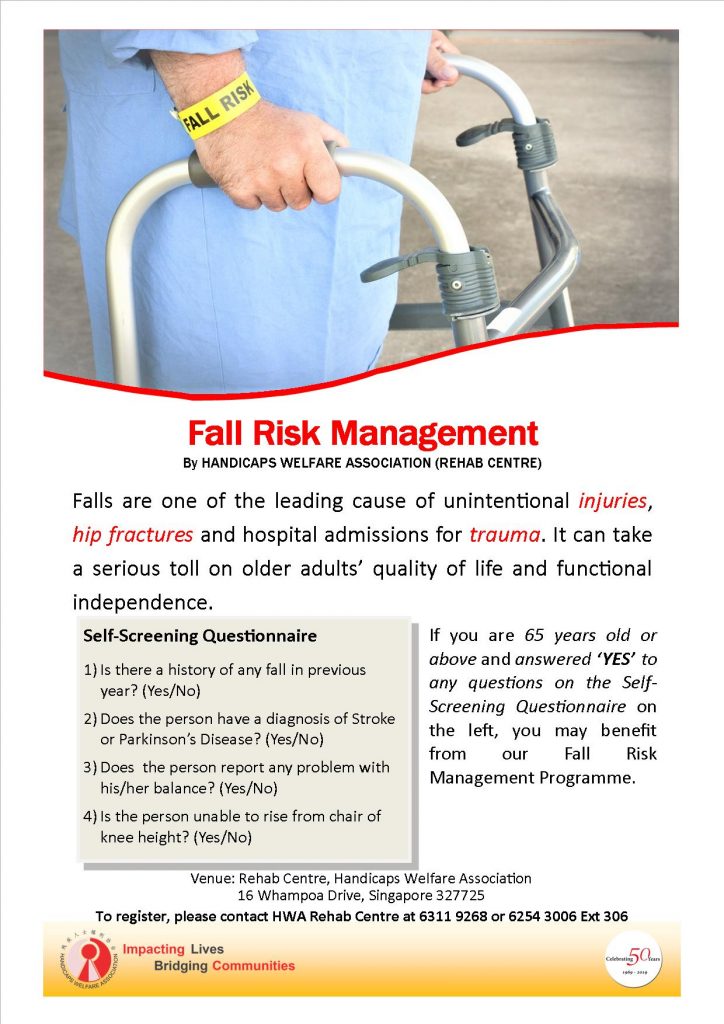 Frequently Asked Questions
What is fall risk? 
Fall Risk refers to the high possibility

 of a person

 falling down, due to old age and medical condition. 

 
Am I eligible for this programme? 
If you 

have any one of the below applicable, you are eligible for the program. 

 

 a history of falling down in the last year

 

 have a diagnosis of stroke or 

P

arkinson

s

 

 have problems with maintaining your balance

 

 

unable

 to rise unaided from a sitting position.

 
How much does it cost? 
12 

Group Sessions -160.50

 

12 

Personal Sessions – $770.40

 

Members of HWA receive 10% discount

 
Who will be running this programme and where will it take place? 
The program will be run

 by our 

certified

 

Physiotherapists and Occupational Therapists. The Program will be held at HWA Rehabilitation Centre

 located at 16 Whampoa Drive, Singapore 327725

 
How long will the whole programme take? 
There will be an initial assessment 

 

The whole programme will take a total of 

12 sessions spread out over 

6 weeks with 2 sessions each week every Tuesday and Thursday. Each session will take up to 1-hour.

 
What are the benefits of this programme? 
Participants 

will be able to 

increase the

ir

 awareness of fall risk management, reduce 

the likelihood of falling,

 and thus improve the overall quality of life with functional independence.

 
When will the programme start? 
The pilot programme for group & one to one sessions starts on Aug 15, 2019 till Sept 24, 2019 every Tuesday and Thursday

 
Programme Schedule

Sessions conducted every Tuesdays and Thursdays at 4pm to 5pm in HWA Rehab Centre

| Tuesdays | Thursdays |
| --- | --- |
| | Aug 15 |
| Aug 20 | Aug 22 |
| Aug 27 | Aug 29 |
| Sept 3 | Sept 5 |
| Sept 10 | Sept 12 |
| Sept 17 | Sept 19 |
| Sept 24 | |

Registration Form

To register online, please fill up the form below.